Meet the Team
Founded in 1996 and an ISO 9001:2008 approved company since 2002, AVKO prides itself on its exceptional customer service and unrivalled knowledge of the specialist paint industry.
With a background rooted in the PVCu window industry, it was Chris Peeters who first recognised a significant lack of adaptable paint products in the professional marketplace. Armed with an extensive knowledge of the industry and its products, Chris set out to address this issue by creating a diverse range of colours and specialist finishes, establishing the unique business known today as AVKO.
From a small-scale business to a market leading brand, AVKO is continually developing its already extensive  and innovative collection of specialist products. AVKO is also proud to offers its clients the most widely varied selection of professional products for PVCu, plastic, glass, metal and wood alongside an assortment of special effect finishes such as glitters and pearlescents.
Each and every member of the AVKO team is knowledgeable, dedicated and keen to provide the high level of technical advice and customer care that our clients have come to expect. Although the AVKO brand and team have grown dramatically over the years, the ethos of the business remains the same; we continue to regard our customers as our most important and valuable asset.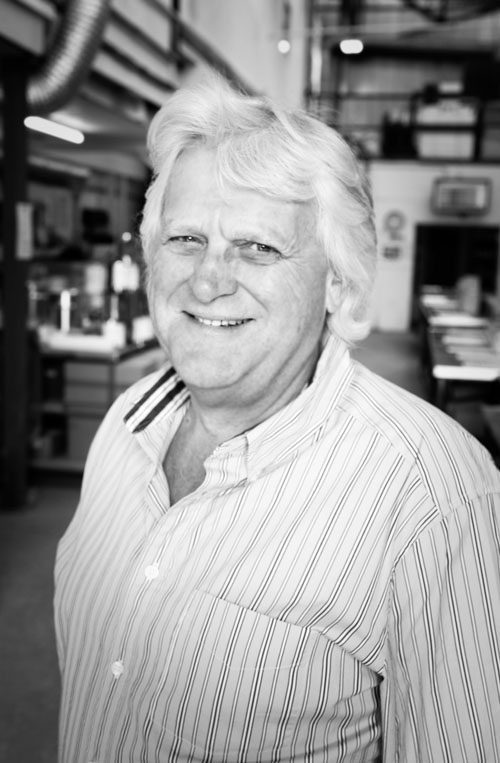 Chris Peeters
Managing Director
As the founder and Managing Director of AVKO, Chris has developed the brand and ethics that have seen AVKO grow into the successful company that it is today. Chris possesses an exceptional knowledge of the industry and he is extremely proud to offer the specialist products that are unique to his business. Despite an unsurprisingly hectic schedule, Chris still finds time to assist AVKO customers and share his knowledge whenever possible.
Bleu
Operations Manager
With over a decade of experience at AVKO, Bleu is responsible for overseeing the entire office and production department. She has a vast amount of knowledge about all the AVKO products, so is always offering support to the sales department when needed.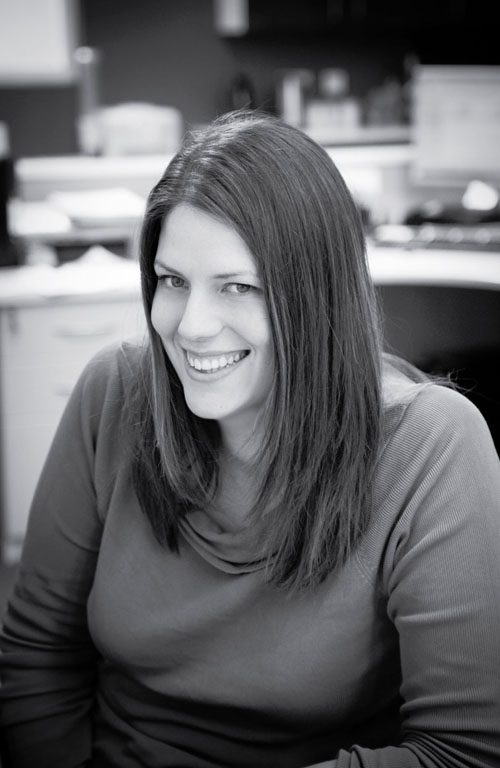 Liz
Company Accountant
Liz, our Management Accountant, oversees the AVKO finances and credit control, ensuring that everyone gets paid for their hard work. She also manages the purchases and invoices to and from our valued suppliers and clients.
Katherine
Customer Relations Supervisor
Katherine is involved in maintaining a strong relationship with all our customers and helping them in any way she can on a day-to-day basis. Katherine has great technical knowledge of all AVKO products and is on hand to answer customer's technical questions and give advice on paint application. She also deals with new sales enquires and helping customer's find the best AVKO product for the job!
Joanna
Assistant Sales Administrator
Joanna is responsible for processing orders on a day-to-day basis and assisting Katherine with any customer enquiries. She deals with all the sample matching requests, colour queries and customers who require formula's. She also carries out daily tasks such as filing, packing & sending colour matches and checking customer deliveries.
Clare
Creative Designer
Clare is our in-house designer, who deals with all things artistic and creative. She is responsible for designing company brochures, producing photography and generally ensuring that the AVKO brand is consistently represented in the best and most imaginative way possible.
Emma
Part-Time Sales Assistant
Emma's role involves dealing with customer enquiries and offering technical advice to customers when needed. She also works closely with Chris, looking at new AVKO products and visiting customers and trade shows when needed.
Kerry
Accounts Assistant
Kerry assists in credit control, speaking with our clients about payments that are due or accounts that need some attention. She ensures that all of the important information on our system is managed correctly. She handles all of the incoming and outgoing orders and generally keeps correspondence moving to each and every client.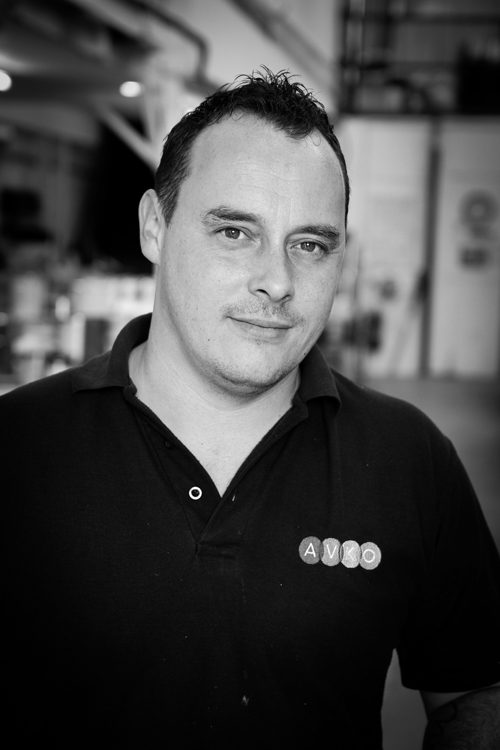 Martin
Production Supervisor
Martin is our Production Supervisor so, as you can imagine, his day is packed with a wide variety of tasks and responsibilities. These include mixing outgoing deliveries, receiving deliveries, overseeing stock control, managing staff and much more. He also maintains all of our important machinery, ensuring that everything is in good working order.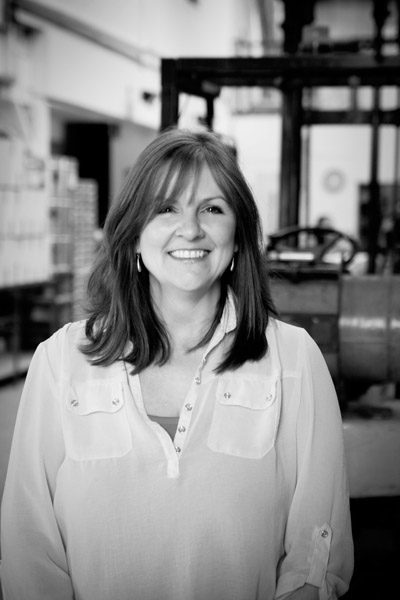 Diane
Production Administrator
Diane plays an essential role in the production process as it is her job to colour match the orders using our onsite procedures and techniques. She works extremely hard with the workshop team in our production department to produce the required number of orders each day.
Dan
Assistant Production Administrator
Assistant Production Administrator Dan assist's our Production Administrator, Diane on a daily basis with the colour matching of all paint orders. He also assist's the shop floor as and when required, with mixing of paint, packing orders and general ad hoc tasks.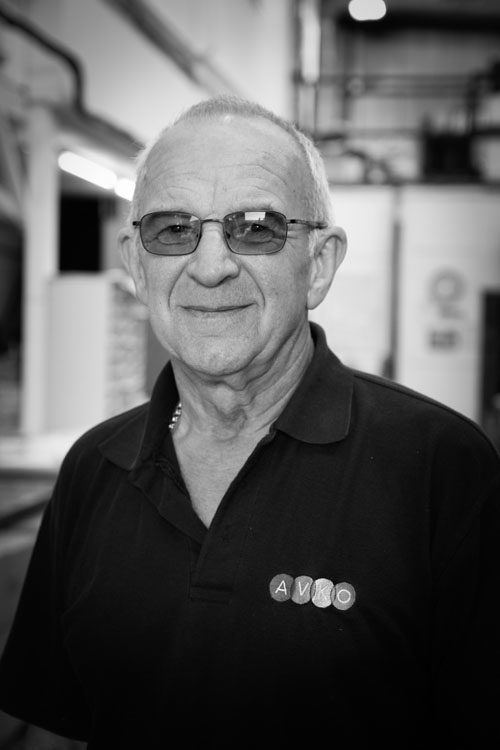 Tony
Paint Technician
Tony is a long standing member of the team. His main duty is the mixing of the day-to-day paint orders which requires alot of skill. It involves mixing using paint forumla's, filling and maintaining the machines and most importantly concentration when pouring the paint! He is also involved with checking and packing of orders ready for dispatch, general housekeeping on the shop floor and any other ad-hoc duties.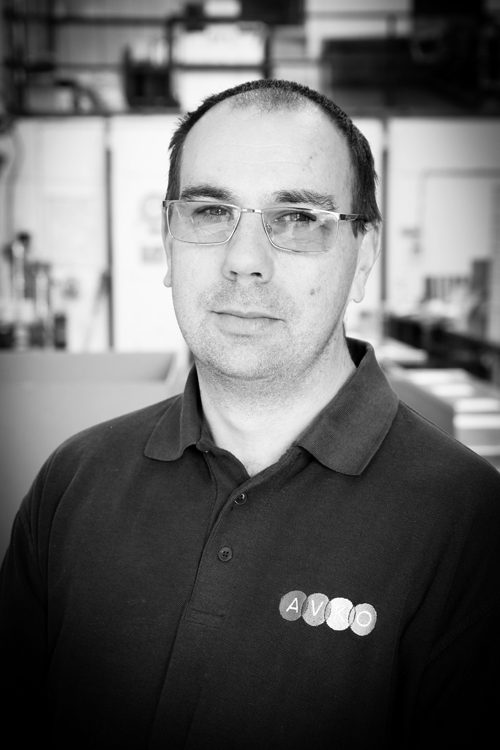 Richard
Research & Development Technician
Richard is a fully trained specialist for our glass and plastic products. He spends his time training others, developing products and spraying techniques, producing samples and showcasing AVKO's versatility. He also goes on customer visits to give application and technical guidance. He also lends a hand on the production floor with the daily orders, cleaning, tidying and packing.
Damon
Trainee R&D Technician
Trainee R&D Technician Damon assists with Research and Development on a day-to-day basis to help develop current and new AVKO products. He also helps out with the general daily tasks, such as thinning paint, packing and getting orders ready for dispatch.
Richard
Trainee Paint & Print Technician
Trainee Paint & Print Technician Richard helps on a daily basis with general duties such as taking incoming deliveries, checking outgoing orders, making up boxes and general housekeeping tasks. He also assists the Marketing & Design department with printing marketing materials and carrying out general printer maintenance on a day-to-day basis.
Gary
Assistant Paint Technician
Gary is our Assistant Paint Technician and works very closely with our Paint Technicians, working on the daily mixing of paint orders, checking colours ready for dispatch and thinning of customer orders. He also assists with packing and dispatching of orders, general housekeeping, and other ad-hoc duties.
Declan
Trainee Paint Technician
Declan is one of the newest members of the AVKO team. He is involved in all aspects of daily production such as paint mixing, checking of colours, keeping stock of boxes, packing & dispatching of orders, replenishment of stock and taking incoming deliveries. He also assists with general housekeeping on the shopfloor.
Lottie
AVKO's Resident Dog
Lottie is our newest edition to the team. She loves running around the office, playing with her toys and exploring the contents of bins in the office. She has lots of admirers in the AVKO office and gets lots of attention from visitors & customers who come to see us.