Specialist Manufacturer of paint for glass
Looking for a paint supplier?
Paint for Plastic and PVC Supplier
But don't just take our word for it… 
Customer Information
FedEx Delivery Issues:
Last updated: 18/10/2021
We're sorry to inform you that due to issues with our courier, FedEx, some paint orders may be delayed at the moment. We are currently looking for other courier companies, so please be patient with us whilst we try our best to get your paint delivered to you quickly and safely.
In the meantime, please make us aware of any urgent orders, so we can do our best to prioritise them where possible. Also, please try to order all necessary products in advance as much as possible – next day delivery might not be possible under current circumstances.
If you have any questions, please do contact our team on 02380 455 855.
AVKO Coronavirus Statement:
Last updated: 9/8/2021
About Paint Orders
Our production team are still working hard to maintain our next working day delivery standard, however as we are a small company we may experience delays due to unforeseen circumstances related to the virus. We will do everything we can to process your order ASAP, and will inform you if there are any delays. We ask you to please bear this in mind when placing an order, and to order in advance where possible.
About Contacting the AVKO Sales Team
We would also like to ask you where possible to contact our sales team via email and only call us if your enquiry is urgent to limit the number of incoming calls. Just as a reminder, our email is [email protected]. If your enquiry is urgent, please do still call us in the first instance.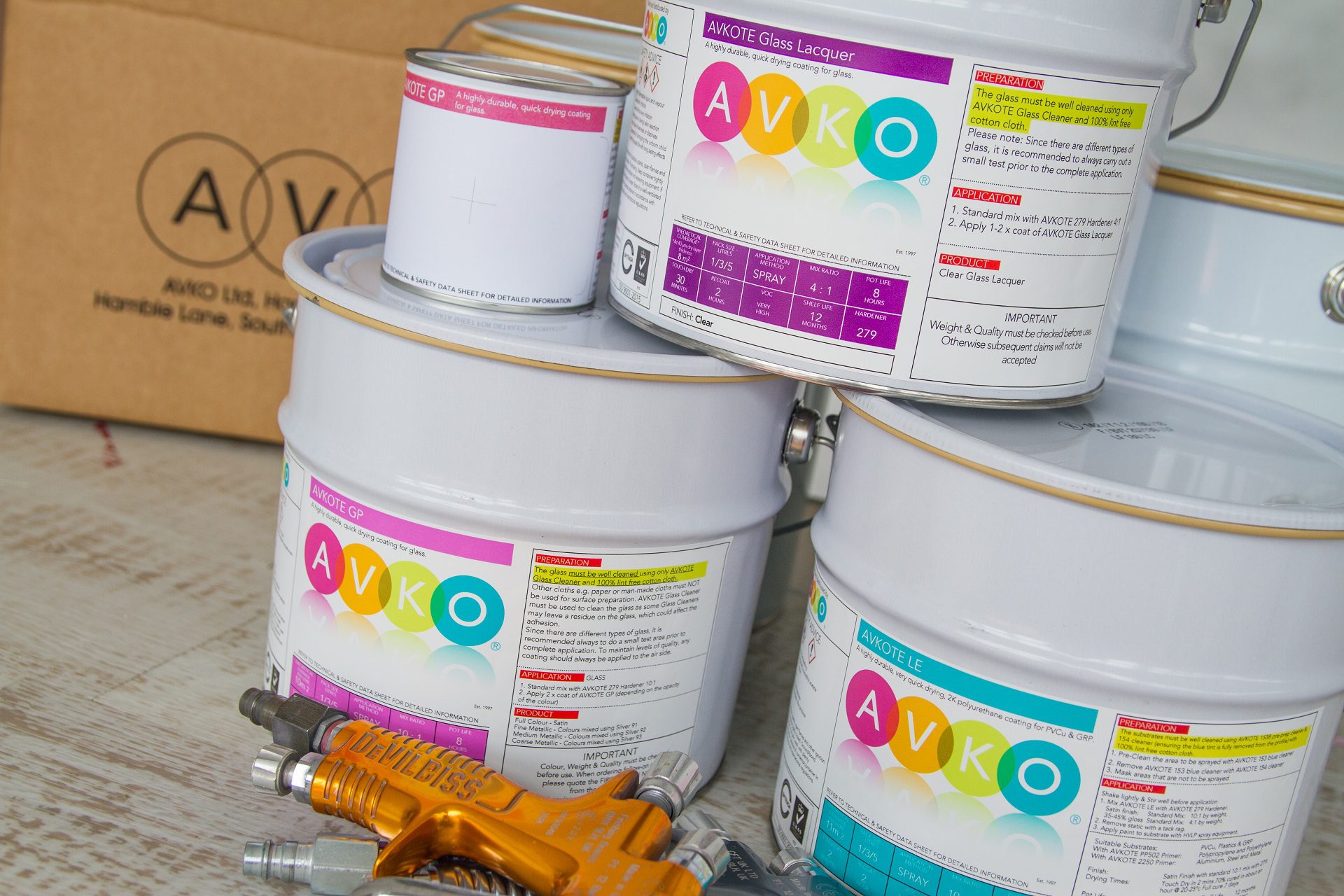 AVKO has been manufacturing paint since 1997, over the last two decades we've become the specialist business we are today
Our paints are ideal for plastic, glass, metal, wood, PVCu, UPVC, PVC, ABS, kitchens, furniture etc.
Our paints are safe and chemically cured-means you don't waste your time and money on baking off.
We're a proud UK-based, market-leading paint manufacturer.
First class customer service and on-going technical support for all our paint products and services.
AVKO stands for quality and service.
Painting process made simple with one coat application and no need for primer.
An extensive collection of over 15,000 brush and spray paint colours.
We manufacture, supply and distribute all our paint to the whole of the UK and Ireland.
All our paints are spray applied.
Browse All of Our Products
View our extensive range of products which are suitable for application onto plastic, PVCu, glass, metal, wood, kitchens, furniture and much more.
Stay up to date with AVKO on Facebook