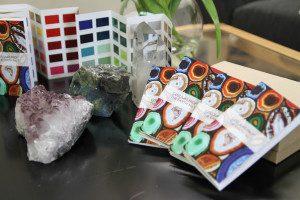 Recently we launched our new AVKO Standard Colour Range: Colours From the Earth, a range of 80 colours, all of which are available to order in any of our paint products.
We just wanted to tell you a bit about the story behind the brochure and how it developed from start to finish.
This project started back in February last year when we started to come up with the concepts for the colour range. This involved a lot of brainstorming amongst us and we explored many different avenues before we all decided to go with one of our first ideas; Colours From the Earth.
Once we had this concept we then started to look at the colours which would go into the range. This involved getting a large collection of images of rocks, minerals and crystals together to get inspiration for colours. We also carried out colour analysis and looked at current colour charts to make sure our range was up-to-date with the latest colour trends.
After 80 colours had been identified we were then able to name each one. We went through each chosen colour and named it in relation to their matching rock, mineral or crystal. The printing of the brochure was outsourced to a professional brochure printing company who brought all our ideas to life.
Clare our Creative Designer (left in photo) carried out all the design work for the brochure: the concept, the layout and the photography. She was also involved with the colour naming process and deciding how to package the brochures ready for launching.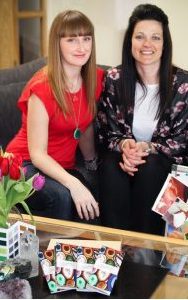 Emma our Sales Assistant (right in photo) was involved with all areas of the project; mainly giving feedback to ensure the project was everything we set out to achieve.
If you would like to find out more about our new standard colour range: Colours From the Earth No.1 you can contact us on 02380 455 855.