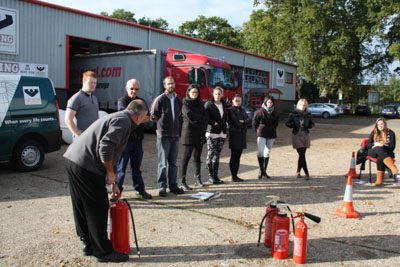 Fun was had yesterday in Hamble outside the AVKO HQ as we were all gathered outside for fire extinguisher training.
AVKO are proud to boast that we now have five certificated fire wardens among the staff here: (Diane Carter, Liz Wise, Richard Cole, Richard Lacey and, Martin McCormick) For the rest of us we had to undergo some extra training learning about the use of fire extinguishers. Steve from Churches Fire safety came along with interesting looking things he was planning to set fire to, to replicate items in an office, home or workshop environment that could catch fire.
First, we discussed the basics from identifying various causes of fire related to types of environment, followed by being shown which extinguishers you should use for the type of fire you are faced with, for instance, electrical, paper, wood or chemical.
The first practical exercise was using the fire blanket to smother the fire. Steve would set fire to the training objects (in a safe and experienced manner of course) then we would each in turn: have to place the blanket over the top causing the fire to die out. We then got stuck in with learning to use the fire extinguishers. This gave us all a great understanding of the weight of each extinguisher, how to lift it, pull out the pin, test it before use and then the correct way to put out the fire.
As you can imagine these tasks was a little daunting as we were practicing with real fire, but the newly acquired skills prepared us all for, if the situation were to ever arise where that we needed to tackle a fire in the workplace or even at home.
" My staff's safety is my first priority in the event of a fire, but if they have the knowledge to tackle minor accidents and fires, and feel comfortable to do so then this training is great"-Chris Peeters, Managing Director.
Learning this was invaluable to every member of staff due to the amount of hazardous chemicals and paints we hold here on the premises at AVKO.
The AVKO offices and paint stores are equipped with top of the range extraction units, safety devices and sensory equipment to provide the safest possible environment, should a fire ever occur. However these extraction systems are not just to stop fires, but for the health and safety benefits of the staff who work around these products all day.