Made 2 Measure are a family run bespoke furniture company based in Southampton, Hampshire. They design, manufacture and fit bespoke furniture for homes and commercial properties. This includes fitted bedrooms, kitchens, bathrooms and offices.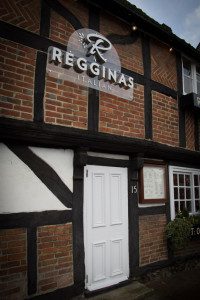 They were approached by Regginas Italian Restaurant in Botley to modernise the bar area in the restaurant. The project included taking out the bar area completely and rebuilding bit by bit, which took 2 weeks to complete from start to finish. The bar workstation was built by M2M and covered in EGGER Truffle Brown Avola laminate to give it a sophisticated look, whilst being practical at the same time.
There was also a new Corian worktop fitted, which was chosen because of its scratch-resistant and non-porous properties. Glass panels were fitted into the front of the bar workstation and then behind the bar.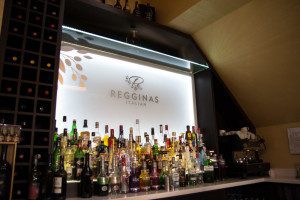 A stencil design of the Reginna logo and an olive branch were applied to the glass and sprayed silver. AVKO's unique frosted effect coating was then sprayed over the entire glass panel and lighting installed behind the glass panels, creating a modern feel and relaxed ambience in the restaurant.
The owner of Reggina's restaurant said he was very pleased and delighted by the final outcome of the project. The M2M team enjoyed carrying out this unique project and especially enjoyed the restaurant's pizzas, which they ate every lunch-time for two weeks!