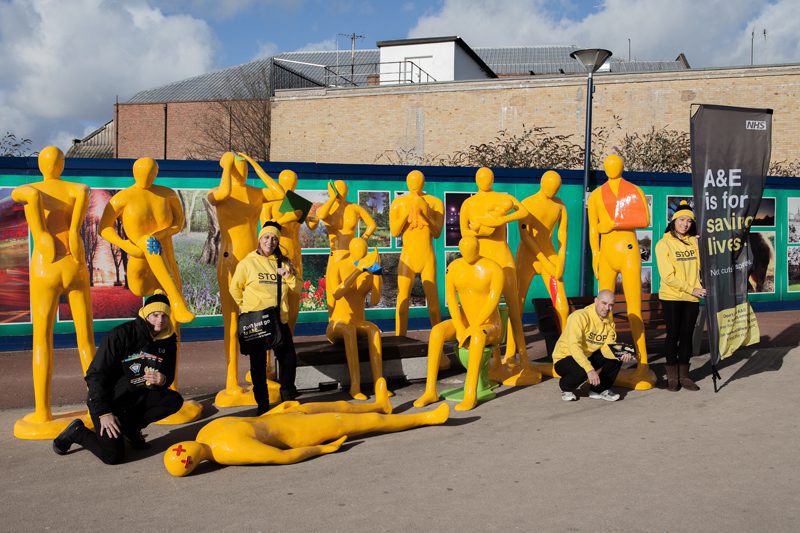 Max Evans from M.E Unique Coatings is a young talent with an ever-growing business in the coatings and finishing industry and this latest project shows a fantastic, alternative twist on the use of the AVKOTE paint product!
Max undertook the project for Storm Creative Media (www.stormcreative.co.uk), a leading creative agency that developed the concept for its 'Not Always A&E' campaign on behalf of the NHS. (www.notalwaysaande.co.uk)
Storm designed the statues to raise public awareness around the right and wrong reasons for visiting A&E, and the healthcare alternatives.
They have been popping up in different locations across London, helping to spread the message, with significant coverage on Twitter via '#yellowmen'.
Max used a Dulux colour in an LE Satin finish supplied by AVKO, with other colours featuring on the figures to signify the various injuries: one with a sling, one with a blue flannel on its head to show he has a headache, etc.
Neil Heather, Managing Director of Storm Creative, praised the work: "the vivid yellow finish was just what we needed to command the attention of the public and informing them of the important NHS messages. And it's lasted – after two weeks of being loaded on and off vans and exposed to the elements at public installations, the statues are still free of blemishes."
M.E Unique Coatings specialise in finishing for windows, doors, plastics and furniture watch out for Max as he has some exciting things on the horizon!
Web: www.meuniquecoatings.com Tel: 07850080746