Retail Refinishing Ltd is a company that specialises in the on-site refurbishment of shop-fronts, cladding and ceilings. They cover the whole of the UK and are based in Salisbury, Wiltshire, where they also provide an in-house spray finishing facility. They have worked and continue to do so with a large range of high profile clients across the UK.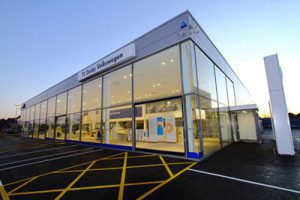 They have recently worked on two very exciting projects for two well-known brands. The first project was the re-branding of an existing car showroom, which was being taken over by Volkswagen. The showroom was to be refinished to the client's own colour scheme. The project was carried out by 2 workmen, over 3 days. They cleaned the substrate with solvent degreaser and then used a light scotch pad abrasive, before directly applying AVKOTE LE. The aluminium was previously powder-coated and the new paint coating was successfully colour matched to the previous powder coated sections. AVKO provided Retail Refinishing with the colour match service for this project.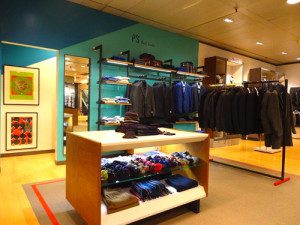 The second project they recently carried out was for Paul Smith; a designer clothes shop for women, men and children, which has more than 300 shops worldwide.
The company wanted some in-store clothes fixtures, where they wanted to retain the industrial appearance of bare steel without having the appearance of blasting or abrading but needed the protection of a hard lacquer.
Retail Refinishing provided an in-house service where the fixtures were cleaned with solvent degreaser and then they directly applied AVKO's 1484 lacquer to the fixtures to maintain the original industrial look. These retail fixtures were sent out to Paul Smith stores all over the UK and Europe, including Harrods London and stores in Madrid, Paris and Marbella.
To find out more about our AVKOTE LE product or our 1484 lacquer, please contact us on 02380 455855.